Cavotagoo Mykonos is the place where I DISCOVERED THE TRUE COLORS OF A BEAUTIFUL SUNSET…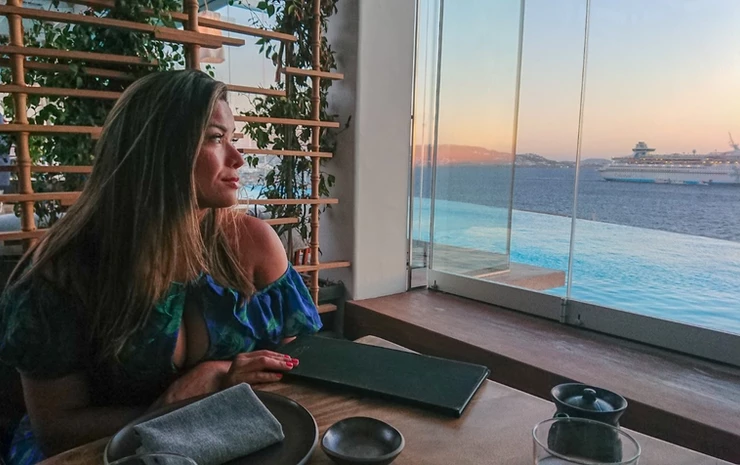 The best way to end an intense day during your vacation on any island, is to see the sunset. The wind calms down, the water gets quiet and you can see the sun in many different colors, something between all the shades of yellow, orange, red or even purple. All you have to do is to select a good spot, good company and of course, you have to get there on time to see it.
My first time in Mykonos was a few years ago, I was attending my friend's bachelor party, and after a party in Nammos, we continued In Cavo tagoo. I wasn't expecting such an amazing scenary. The sun was gently kissing the sea, creating different shades of colors. For couple of minutes i just stopped and I was overwhelmed with the sensation of my breath being taken away. Without a doubt I wanted to share this moment with my husband. Not only because it feels so romantic, but because of its peace and magic.
Those moments are the best when you share it with the ones you care for and love. I had a chance to go back and I made it happened this past summer.
Welcome to the seductive and sensual world of CAVOTAGOO…
Resting into a wondrous Cliffside in Mykonos town, the legendary CAVOTAGOO draws world travelers into a seductive realm of sensuous pleasures. A realm of unpretentious class, style and glamour, seamlessly blending the elements of Cycladic tradition with the magnificence of contemporary architecture, the jet-setting vibes of Mykonos and the notion of chic barefoot luxury.
This stately luxury hotel in Mykonos stands beyond the fundamentals of pure luxury and minimal grace as it introduces a world fusing of aesthetic allurement. Prepare to step into the sensual world of CAVOTAGOO, relish scrumptious delights at OVAC restaurant in Mykonos and experience the most intriguing awakening of the senses with some of the best spa therapies and treatments at CAVOTAGOO's luxury spa center.
Open your eyes to the shimmering azure Aegean whilst enjoying a spectacular buffet breakfast at the "Breakfast Nook" at OVAC Restaurant or by the dazzling pool.
The great chefs of CAVOTAGOO prepare the most flavorsome compositions of fine international recipes and authentic Greek specialties, creating dishes that capture the senses. Prepared with the finest quality ingredients from the local fields, all dishes bear the cosmopolitan essence and signature of CAVOTAGOO. Book in advance to reserve a table at the Tagoo Restaurant as it is by far the most preferred dining choice of Mykonos.
Rooms, suites and villas, OVAC restaurant, Pool and poolbar, SPA, Fitness center, Get in Touch www.cavotagoo.gr also you can see more pictures and information on they socialmedia @cavotagoo
They are very with the feedback and follow ups. Personally, I adore and am impressed with companies that make me feel special and treat me well and with class. Which is the case of Cavotagoo.
If you are not planning on going to Mykonos, then you can visit Cavotagoo in Santorini, another very special Greek island (soon is a blog about). They have awesome instalations and make your stay worthwhile.
By Keilley Lee Marques
Related Posts
At Kozmo, time seemed to have stopped. It is a haven in the heart of Budapest where you can disconnect and unwind after a long day. Personalized service and a great cuisine will make your stay a wonderful...