The perfect combination between tradition and innovation has been the key element to make possible this beautiful story.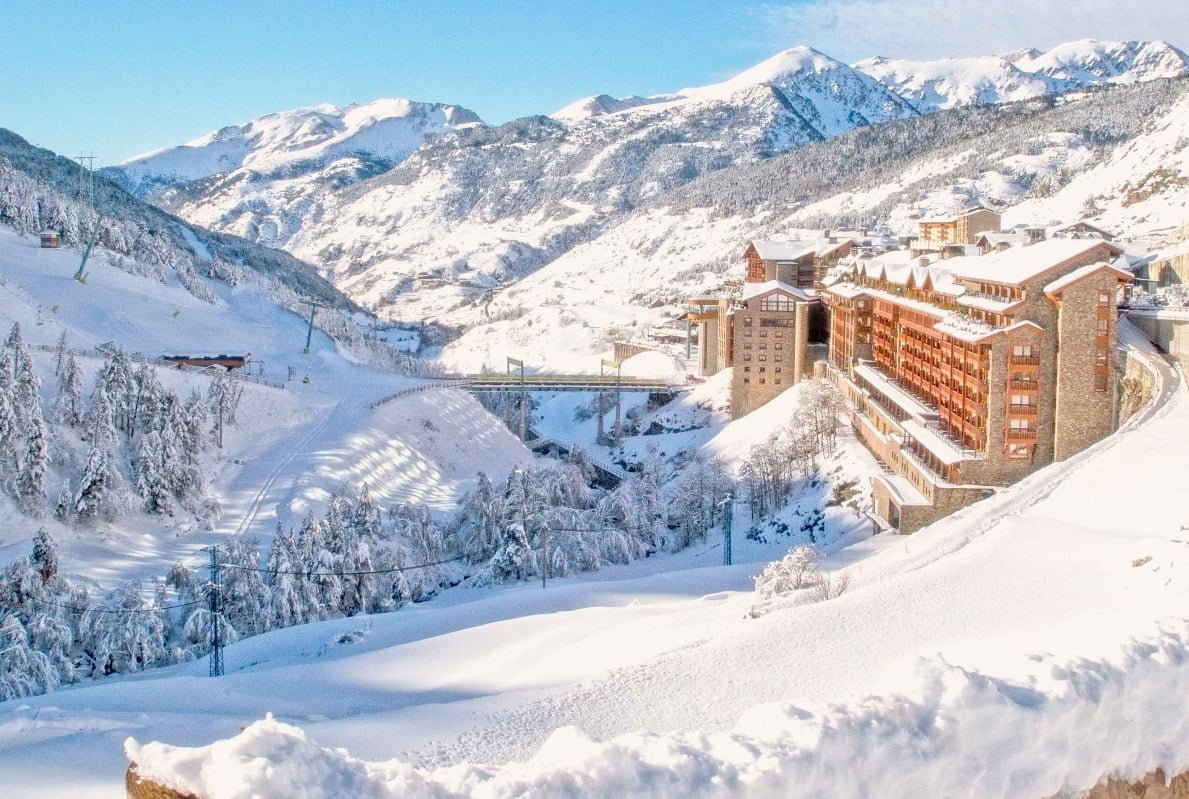 The resort consists of three hotels of four and five star and he new Hermitage Mountain Residences united among themselves with a 5,000sqm spa: Sport Wellness Mountain Spa. A space of 5 floors dedicated to relaxation and well-being.
Always seeking synergy with its surroundings, Sport Hotels Resort & Spa is entirely built with natural materials like stone, iron and wood which make everything more special and unique. This is how it took shape at the foot of what is now the largest ski area in Southern Europe: Grandvalira.
Its location and quality of service make Sport Hotels Resort & Spa a reference resort in Andorra and in the Pyrenees.
In my opinion, it is the best (and oldest) hotel in Soldeu. It all began in the 1800s. Soldeu was a crossing rancher village for people who travel to France. Thus arose the idea of building a small inn. Since 1989, was inaugurated Sport Hotel and the first restaurant service (the actually Sol i Neu) at the arrival of the slopes. A few years later, in 1996 company expanded with Sport Hotel Village and in 2006 with Sport Hotel Hermitage & Spa and Sport Wellness Mountain Spa. From there arose the different services of gastronomy and activity center with Excellent service.
Talking about their tradition and quality, the Sport Hotel Hermitage has been growing and now they offer three hotels and Hermitage Mountain Residences with various quality and price. Still, we are talking about four and five star hotels. With their various price ranges, their hotels target many different classes of spenders.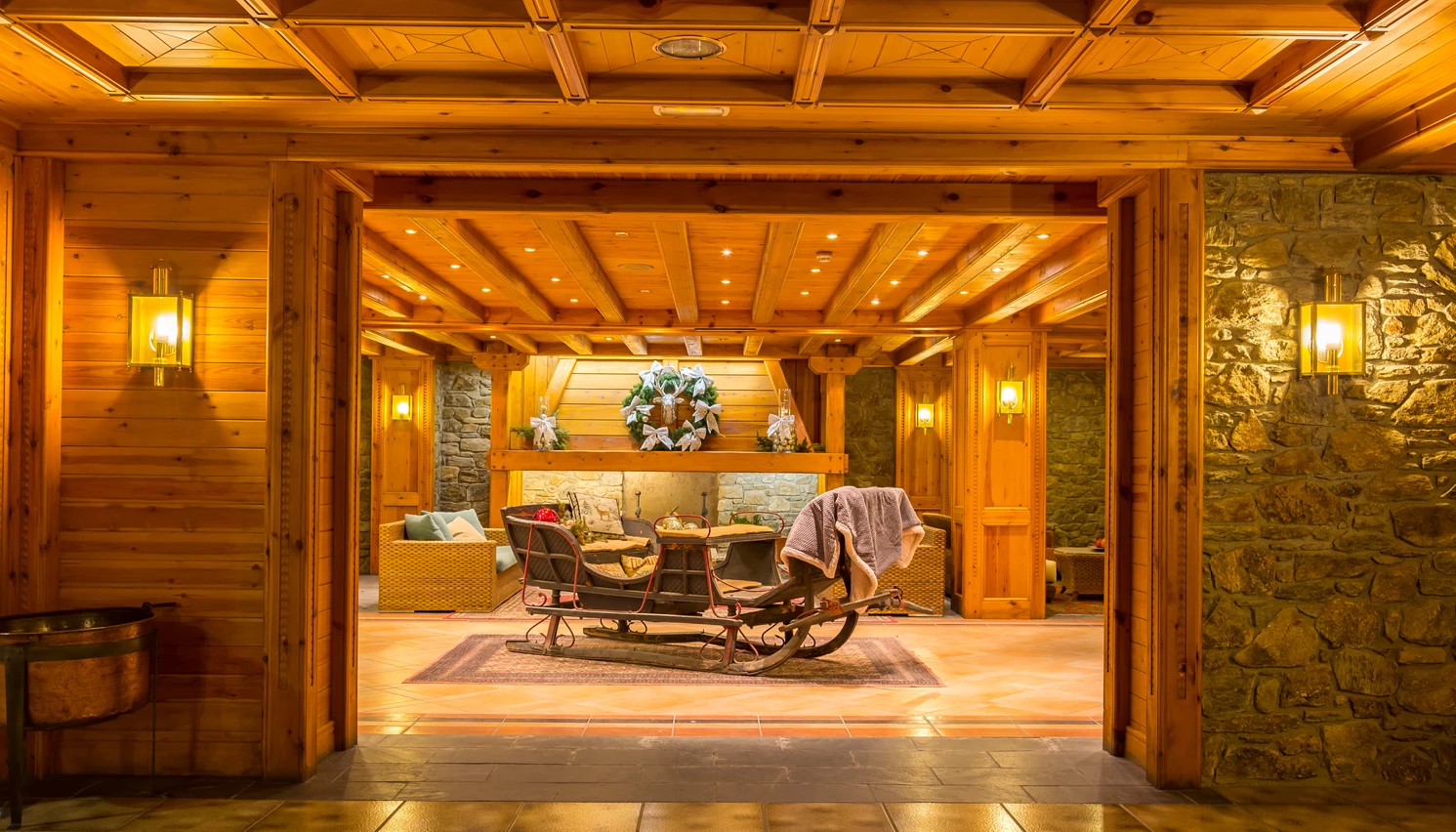 The traditional mountain decor makes the Sport Hotel, a warm, comfortable and familiar place.
The wood and stone present in all the areas of the hotel, careful decoration and staff available to customers willing to meet any need, make guests feel a real feeling of tranquility and comfort.
Sport Hotel is a typical mountain hotel. It provides to its clients many facilities like a bar, a buffet restaurant with show cooking and large common areas to relax and spend time.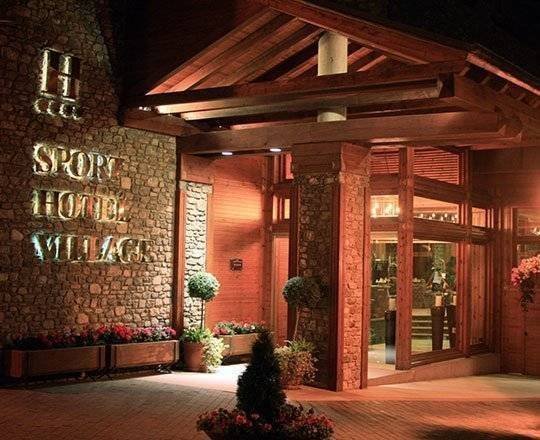 Sport Hotel Village is a relaxing place in the heart of a unique environment. Its location in the same building as the gondola and at the foot of slopes allows customers direct access to the Grandvalira ski area, Soldeu.
The hotel was built with typical noble mountain materials such as wood and stone to create a warm and majestic atmosphere. The reception evokes the high mountain and recalls the traditional alpine inns. It also propose a bar and a buffet restaurant with show cooking.
Its 148 rooms of which 44 are Junior Suites with balcony, offers to guests all the amenities needed for the rest of the family. Full equipped with individual balconies, 9 of them have a hydromassage bathtub.
Junior Suites also include, as all rooms of the Sport Hotel Hermitage & Spa, a daily access to the Sport Wellness Mountain Spa.
Sport Hotel Hermitage & Spa 5*
The exclusivity and luxury of the Sport Hotel Hermitage & Spa make since 2013 it became the first five-star hotel in Andorra and in the Pyrenees to be a member of the prestigious association The Leading Hotels of the World. Splendor, luxury, relaxation and wellbeing are within reach of its guests. Individuals, couples, families or with friends, everything is designed to make you feel like at home. A nice place in a great environment, where service and quality leaves no one indifferent. Sport Hotel Hermitage & Spa enchants all visitors with its refined and welcoming decor. The entrance and lobby sturdy roofs of wood create a high mountain atmosphere, meaning forget the distinguished design and delicate touch that is not usual in this type of accommodation.
The hotel has 135 rooms including 102 Junior Suites of 23sqm, 24 Junior Suites Premium of 54sqm, 6 duplex room of 38sqm and 3 Suites Hermitage of 66m2; all with mountain views over slopes of Soldeu.
The charm and elegance that flows from this wonderful establishment are some of the features that guests notice upon arrival; a real sense of calm in the middle of nature. Each room has a private terrace and latest technology Details such as large hydromassage bathtubs or Acqua di Parma bath products make each stay a special and unforgettable experience.
The new Hermitage Mountain Residences is opening.
It's a new concept of luxury Residences in the Pyrenees. You will be able to enjoy 9 luxurious Residences most of them with wonderful views to the ski slopes of Grandvalira .
The Hermitage Mountain Residences are totally integrated in the surroundings with a building built with natural materials as stone and wood.
It features 5 floors with stunning, spacious and cosy Residences from one to eight bedrooms and up to 500 sqm.
An exclusive building with all the services of a five star "Leading Hotel of the World" and the comfort of a private chalet.
Such great hotel, the facility will not be different… For your better acomodation the hotel also has great facilite.
MiniClub
If you travel with smalll children and the day is long for them outside, Miniclub inside the Sport Hotel takes care of your little ones.
This way, parents can have some lone time and relax a little bit, and at the same time the kids can run around the spacious play area, where they offer various activities for many age groups.
The personel of the MiniClub speaks variety of languages, it is quite international place.
Miniclub's indoor facilities will have this winter new structures for young people can enjoy even more of their holidays with other children.
The room will be separated in 3 ages: BabyClub, KidsClub & TeensClub.
Sport Wellness Mountain Spa at 1.850m of altitude presents itself as a unique spa in the Pyrenees. A relaxation and beauty paradise in a majestic environment.
Its 5,000 m2 of facilities spread over 5 floors and unforgettable Sodeu mountain views, meant that we designate it the "wellbeing temple" Formed by various thematic areas: health and beauty, relaxation hydrotherapy, purification and tonnification by dry and moist heat. It also has an aquatic area with different pools with different temperatures, underwater massage jets and outdoor jacuzzis to remove tension and enjoy a truly relaxing moment.As beauty care, Sport Wellness Mountain Spa has 19 cabins to realize facial and body massages, beauty treatments and baths to complete the therapy. With the aim to improve and increase the supply and quality of our services, every six months we are renovating the care card to meet the new needs of customers and we update with the latest trends in beauty issue.
Each hotel of the resort has its own restaurant, which allows all customers to enjoy a wide range of flavors. Traditional gourmet menus or signature cuisine, the most sybaritic gourmets will be delighted to find Sport Hotels Resort & Spa dishes that will transport them to new horizons. Many international culinary specialties are offered in the show cooking buffet or in the different restaurant menus. To support in the best way the different dishes, they offer a wide selection of referenced wines from around the world.
And to show the sinomy of chic and exquesit taste, one of the best restaurant in the world can be part of you experience in Andorra.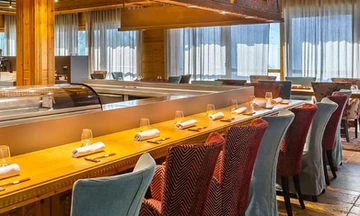 The restaurant Koy Hermitage by Hideki Matsuhisa offers two gourmet menus with typical dishes such as sushi, sashimi or maki in addition to providing other special dishes such as yakisoba with live algae, tempura of sea scallops and prawns or Wagyn (Japanese veal). Flavors and techniques that carry in the Japanese culture. All of this prepared in live and served on a traditional Japanese bar.
The establishment also has a large selection of traditional drinks including Sake or typical beer directly imported from Japan. The restaurant is only open for dinner during the winter season and is divided on two services. It has a capacity for twenty people, with only two tables and a traditional japanese seating bar for 12 people. Dont forget to make a reservation.
Well there is always a place that i love to be, take my favorite time to enjoy a quality social time.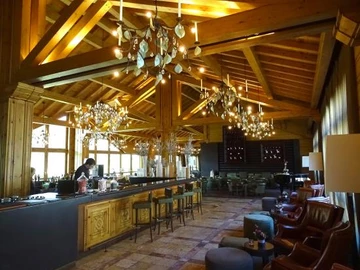 The Main Bar of the Sport Hotel Hermitage & Spa, it has a wide list of cocktails and spirituous drinks and an interesting selection of snacks to eat at any moment during the day.
The Glassbar 1850 is essentially a meeting place. Throughout the day different atmospheres succeed.
A perfect place to relax and drink a coffee while reading the newspaper in late morning, enjoy a tea time and spectacular views of the mountains in the afternoon or to end the day with a gin tonic or even dinner with live music.
Welcome to Andorra, it can be more that you can expect , make it your own experience, make it your home for a winter season…
P.S. Soldeu, the biggest ski resort of Southern Europe, a perfect place to enjoy the Finals of the FIS-Ski World Cup 2019.
Related Posts
At Kozmo, time seemed to have stopped. It is a haven in the heart of Budapest where you can disconnect and unwind after a long day. Personalized service and a great cuisine will make your stay a wonderful...